Banner invite you to join us on Stand 32 at HCSA 2022.
Banner are attending the HCSA Annual Conference & Exhibition on 22nd-23rd November 2022. Connecting buyers and suppliers across the healthcare sector, HCSA will provide education, networking, and product showcase opportunities; bringing together the healthcare community for this exciting and stimulating event.
Our committed team of experts have extensive experience in servicing the Healthcare sector. They know your industry, and work hard to deliver solutions that meet your personal requirements.
Banner healthcare are the market leader for multi-category catalogue compliance, and with a proven track record with over 50 years' experience, Banner healthcare are your go-to provider for healthcare consumables.
Visit our specialist Healthcare team on Stand 32 to discover how we can support you with procurement of healthcare consumables, and to discover our complete range of workplace solutions.
---
With Banner you can expect:
Compliant framework solutions

Excellent implementation project management

Control of your costs and supply chain consolidation

Open, transparent approach

A dedicated team of people who care
As one of the largest distributors of workplace supplies, backed by a committed and dedicated team, and a wealth of positive customer testimonials , you can be confident that Banner will support you in ensuring your workplace environment remains safe, productive, and efficient.
With Banner, you benefit from the compliance and efficiency of working with us, alongside all the additional benefits of procuring through a public sector framework.
---
Conference Details
This year's HCSA Conference & Exhibition - Delivering Recovery & Resilience - is taking place from 22nd-23rd November 2022, live at Manchester Central. The event will provide delegates with stimulating content and a lively atmosphere in which to discuss key issues and connect with suppliers.
HCSA is bringing together policy makers, and have announced some fantastic speakers to present their views on the current and future landscape for NHS public sector procurement.
To discover more about HCSA and to find details on how to attend this event, please follow this link.
We hope to see you there 👋
---
Banner is committed to sustainable solutions
Banner has environmental sustainability at the heart of our decision making. To achieve long lasting change, we are working collaboratively across operations, employees, supply chain and customers.
Our top themes:
🌎 Net Zero
🌎 Procured plastic free
🌎 Protecting the natural environment
Discover what we're doing to support and protect our environment, here.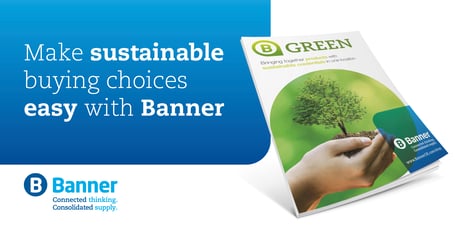 View our NEW B Green catalogue - the quick and easy way to make sustainable product choices by bringing together products with sustainable credentials in one location.
---
Discover Banner Healthcare
Banner are channeling savings back into frontline services through:
🔹 Compare & save
🔹 Easing cost pressures
🔹 Multi-category catalogue compliance
🔹 Creating strategic relationships
🔹 Green initiatives
With our best-in-class customer buying experience, we reduce impact on clinical services teams, allowing them to focus on patient care, and reduce pressure on internal logistics resources.
Click here to discover our healthcare frameworks, categories, partners and more!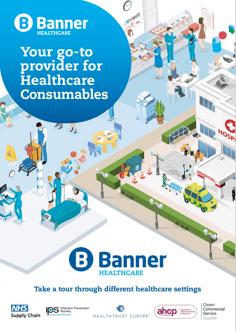 Take a tour through different healthcare settings in our newly refreshed walkthrough brochure.
---
Get in touch
To get in touch click the link here, or phone us on 0843 538 3311.
To become a customer email Contact.Banner@BannerUK.com.