Banner invite you to join us on Stand F2 at the Schools & Academies Show 2022.
Banner is excited to be returning to the Schools & Academies Show this year, on 17th November at the NEC Birmingham.
This leading education event, now in its 11th year, brings together the education community to collaborate, network, and gain inspiration from the sector's most decorated and influential speakers, including representatives from the Department for Education, the Education & Skills Funding Agency and more.
Our committed team of Education supplies experts have extensive experience in servicing the education sector. They know your industry, and work hard to deliver solutions that meet your personal requirements.
Secure your complimentary pass, here.
---
What to expect from Schools & Academies Show
✏️ 30+ hours of CPD-accredited content
✏️ Key networking opportunities
✏️ An exhibition floor with 200+ education suppliers
✏️ Hear first-hand from keynote speakers and policy makers
✏️ Exclusive opportunities to question policy makers and senior education leaders

---
With Banner you benefit from:
Compliant framework solutions

Excellent implementation project management

Control of your costs and supply chain consolidation

Open, transparent approach

A dedicated team of people who care
As one of the largest distributors of workplace supplies, backed by a committed and dedicated team, and a wealth of positive customer testimonials , you can be confident that Banner will support you in ensuring your workplace environment remains safe, productive, and efficient.
We look forward to welcoming you to stand F2 on 17th November.
---
Check out the CPL Village - back for a second year at the SAA Show!
As well as finding us in the main exhibition hall, you can also talk to Banner representatives at, the CPL Village - hosted by Crescent Purchasing Limited (CPL Group), an education sector owned charity incorporating Crescent Purchasing Consortium and Tenet. This not-to-be-missed area is free to access for all visitors.
As a leading education framework supplier, the team on our stand will be on hand to provide valuable insight, advice and techniques for saving schools money through smart procuring.
Find out more about the CPL Village by clicking here.
Secure your complimentary pass, here.
---
Banner is committed to sustainable solutions
Banner has environmental sustainability at the heart of our decision making. To achieve long lasting change, we are working collaboratively across operations, employees, supply chain and customers.
Our top themes:
🌎 Net Zero
🌎 Procured plastic free
🌎 Protecting the natural environment
Discover what we're doing to support and protect our environment, here.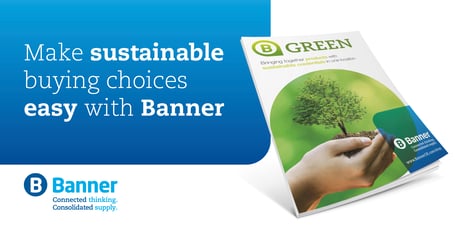 View our NEW B Green catalogue - the quick and easy way to make sustainable product choices by bringing together products with sustainable credentials in one location.
---
Get in touch
To get in touch click the link here, or phone us on 0843 538 3311.
To become a customer email Contact.Banner@BannerUK.com.